South Africa – August 2011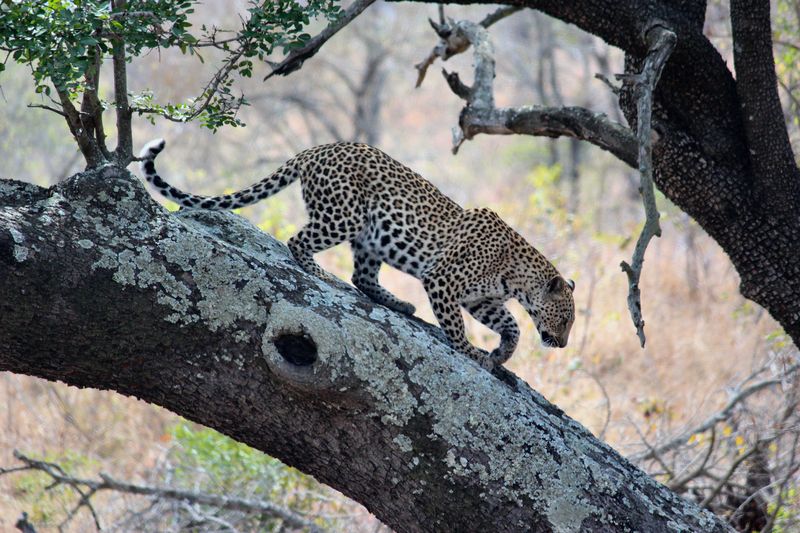 We flew into the notorious city of Johannesburg, half expecting to be robbed and murdered on arrival. Headlines and crime statistics often paint South Africa as a death trap but fortunately this is not the case. Of course, like in any major city, there are areas one better avoids and certain precautions that need to be taken.
In my experience, the country is quite safe although caution is advisable in so-called black areas which unfortunately seem to do their bad reputation justice with frequent robberies and even homicides after dark.
We had no trouble at all getting from Johannesburg to our destination the Kruger National Park – a 5hour drive. So I would say the bad PR is generally undeserved.
South Africa is far more developed than I had anticipated and the people there are generally very friendly and helpful. However, scars from the age of apartheid are difficult to miss. For one, there are hardly any mixed people – during our vacation we have only seen either black or white. The same seems to apply to school classes which seem to carefully separate by color – admittedly we only saw two of them, so I do not know whether this is always the case or if it depends on the area. I suspect there's still a long way to go for true equality.
The country itself is very beautiful and has much to offer – wildlife viewing, culture, different landscapes and scuba diving are just a few examples. Because we had only a limited amount of time on our hands we decided to focus on Safari and photographing wildlife in the Kruger National Park. We were staying at the Ngwenya Lodge, situated at the Crocodile river just within the southern borders of the Kruger National Park.
On our first three days we were led through the park by our guide Felicity – an energetic woman, with an uncanny knack to pick the right roads for wildlife viewing and endless patience for our photography addiction. I can unreservedly recommend her to anyone interested in the Kruger. We also happened to pick a good time – as August is the driest month most water holes and small rivers inside the the park have run dry so the game is forced to congregate around the remaining water sources. This makes spotting them much easier. I suppose we were still exceptionally lucky with wildlife viewing in general – 7 leopards in 6 days for example is not a bad count!
Matt and I were astonished by how cold it gets during the night and in the morning. You simply don't expect to be in danger of frost bite when you travel to Africa. The risk seemed particularly high during our first two days, when we used open safari vehicles for our game drives. We wore practically every warm piece of clothing we had taken with us, were wrapped in several blankets and still felt like on an arctic expedition. Of course, temperatures would rise fairly quickly once the sun was up. After our first two days we exchanged the open safari vehicle for our rental jeep and reveled in the luxury of windows and a heating system. Without the head wind the cold mornings were easily bearable.
We spent almost every day in the Kruger, getting up at 5 in the morning and usually leaving the park just before the gates closed. Only on one occasion did we skip the park in favor of the Moholoholo wildlife rehab centre and the Hoedspruit Endangered Species Foundation. These centres are located roughly 3 hours north of our lodge so sleeping in was once again an impossibility.
In order to get there we had to drive through one of the notorious black areas. Thankfully Felicity warned us to be careful, not to stop and ask for directions and only drive through by day. Up to this point we had not even known about the black area en route. The drive up in the morning was uneventful enough. The black area is similar to how one usually imagines Africa – lots of garbage on and near the roads, black people only (as the name "black area" suggests), shabby often slum-like housing and obvious poverty. We were glad to be through.
The Moholoholo rehab centre is concerned with tending for injured animals and if possible setting them free again afterwards. By coincidence we met an anti-poaching unit coming fresh from the bush. Apparently, rhino poaching is drastically on the rise.
For various reasons – e.g. their injuries or the fact that some of them are too accustomed to humans – a few of the animals at Moholoholo can't be set free again. They keep these animals as "ambassadors" in order to give people the chance to learn about them and sometimes even touch them. We were for example allowed to stroke a cheetah or have a vulture on our arm. I enjoyed that immensely.
After our visit at Moholoholo we continued to the Hoedspruit Endangered Species Foundation. The centre focuses on the conservation of endangered animals. The staff there are friendly, very professional and extremely knowledgable. Our guide Henk answered countless questions about breeding, behaviour, food sources etc. without any difficulty. Apart from that he was also very patient and helpful while we were taking pictures. My favourite experience at the hesc was interacting with young cheetah. We both simply loved them. They were 4 months old and indescribably cute. Apparently the centre normally doesn't offer this kind of interaction so we consider ourselves extremely lucky.
On our way back to the lodge we were stopped by a black (what else in a black area?) police officer who wanted to earn something on the side. He repeatedly told us that "normally he would have to take us to the police station where we would pay the fine of 1500Rand(150EUR) and there we would get a receipt…". The emphasis was clearly on the word "receipt". After the third time Matthias cautiously told him that we didn't need a receipt.
Naturally we were not too thrilled about going to the police station in an area that was known to be unsafe for white people and tourists in particular. At the time Matthias was wearing his photographic west which has a distinctly official (almost military) look. This may have been part of the reason why our "helpful" police officer finally decided against collecting his bribe. However, this little incident had cost us about 40minutes. Because the sun set shortly after 6, we barely made it out of the black area in time before dark.
On our last two days we went into the Kruger alone and keeping with Felicity's advice from our previous days we again had very successful game drives.
Matt and I really enjoyed this vacation. When you are looking for animals in the wild you get inevitably gripped by some kind of hunting fever – of course we were only hunting for pictures.

---
---